Concrete , Granite curbs and Steps
Services to Design and Build Granite Curbing, Steps & Posts
Mueskes Landscape and Snow Management can enhance your property with built-to-last granite curbing, steps, lamp posts and mailbox posts.
---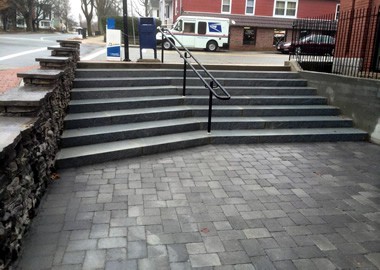 Enhance your property with clean and professional granite curbing, steps, lamp posts and mailbox posts. We have the equipment and experienced staff to excavate the existing area, provide all necessary base materials, install the stone and finish all disturbed with a clean landscape. We will work from architectural plans or hardscape designs to ensure the installation is precise and meets all of your requirements.
Mueskes Landscape and Snow Management takes pride in a long-lasting finished hardscape. When installing granite curbing, steps and posts, we adhere to the same preparation and techniques as we do with other hardscape installations. We are aware of the risk of settling and damage during the winter months, so we ensure adequate compaction and proper stone backfill or concrete setting of granite to prevent any disruption.
We also specialize in pour and finish of concrete for commercial, municipal, industrial and residential. We have effiicient equipment, trusted business partners and skilled and experienced tradesmen.
Featured below are photos from a parking lot installation and an entrance redesign and installation. Products installed were permeable pavers, granite curbing, granite steps and caps, and a decorative retaining wall.
Contact Us
Get a Free Estimate on Concrete, Granite Curbing and Steps