Excavation, Drainage and Grading Services
Mueskes Landscape and Snow Management uses new and modern equipment for excavation and trucking. We believe investing in new equipment increases efficiency and provides a clean and safe worksite.
---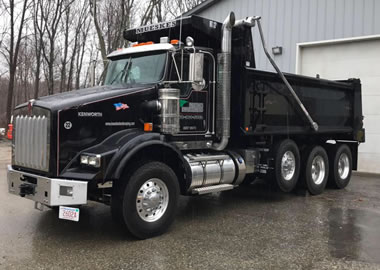 Before excavating any site, we have a plan in place and safety comes first. All utilities are marked and cleared by the local utility companies. We then work from site plans to get your job done efficiently and on time. Our excavation services consist of drainage, grading, site development, retaining walls and test pits for future construction. On or off-site trucking of materials is also available for your convenience.
In addition to excavation, we can clear land and expand your yard. We can truck in clean fill, grade your land to meet your specifications, install screened loam and seed, hydroseed or sod. Our trained staff and fleet of modern equipment will take on any project, small or large, and ensure it meets your expectations.
Mueskes Landscape and Snow Management maintains full liability and workers compensation insurance with high limits. We follow all OSHA guidelines and promote safe and healthy work environment with every hardscaping service as well as all services in general.
We provide:
Snow removal and relocation
Trucking or materials to and from jobsites
Delivery of loam, stone, mulch and other materials
Excavation for drainage and walls
We have a modern fleet consisting of:
Triaxle dump trucks
6-wheels dump trucks
Mini excavators
Front-end loaders
Bobcat skid and track steers
Contact Us
Our Excavation Process Entails:
Planning for the excavation and developing a site plan
Marking all underground utilities
Excavating based on your specifications
Trucking out existing material and/or trucking in new material
Installing specified drainage, wall block, forms, pipes, utilities, etc.
Backfill with proper materials (sand, gravel, fill, etc.)
Repairing any disturbed areas (loam, seed, asphalt, etc.)